I intend to write an article on dentistry in Singapore and Blog2U has referred me to this dental clinic – TOOFDOCTOR. It is located at Tanjong Pagar Plaza, pretty near to Tanjong Pagar Station.
(Photo 1)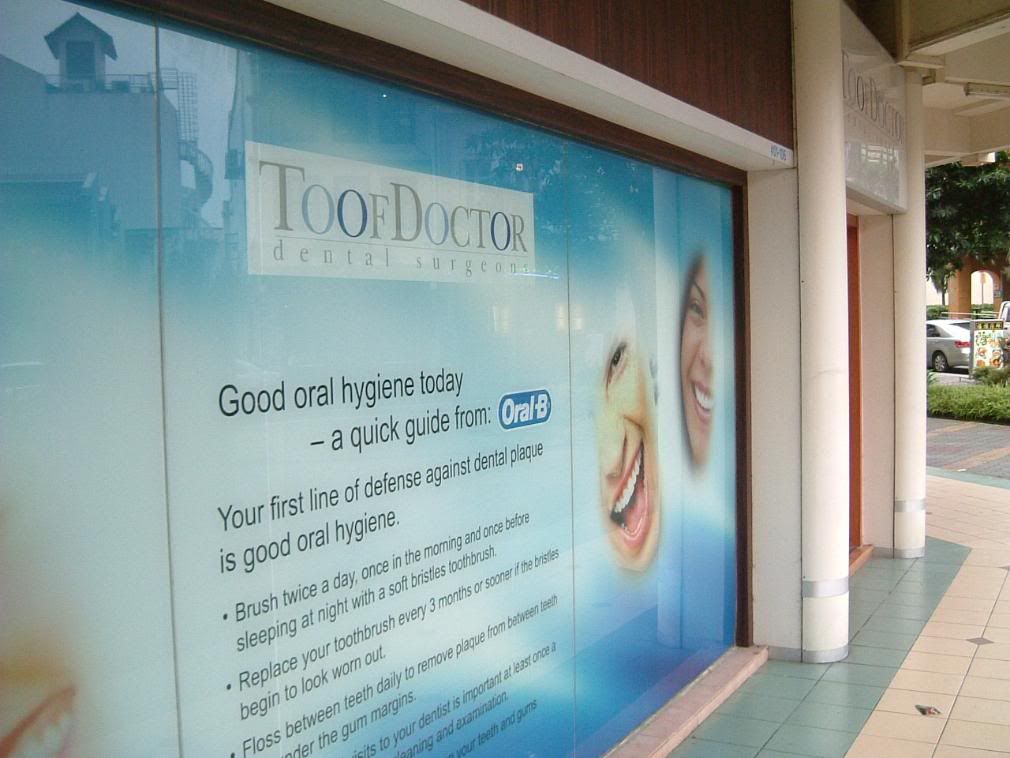 Unlike those boring clinic you see in the HDB, TOOFDOCTOR has done a terrific window dressing with vibrant colourful design in the clinic. Personally, I like this LEGO figures displayed in the glass cupboard.
(Photo 2)
After a short waiting, I entered Dr Diong's room. It is another feeling. There is no fanciful design but the dental unit integrated with the Mac computer has been very prominent under the contrast of the simple and plain-designed room. Overall, his room gives a very pleasant, comfortable and professional ambience. I feel at ease lying on his integrated dental unit. Well, this is Dr Diong's room. I got to know that there are different design themes for other rooms. You can view them at the TOOFDOCTOR website: http://www.toofdoctor.com.sg/Where_we_work.html.
(Photo 3)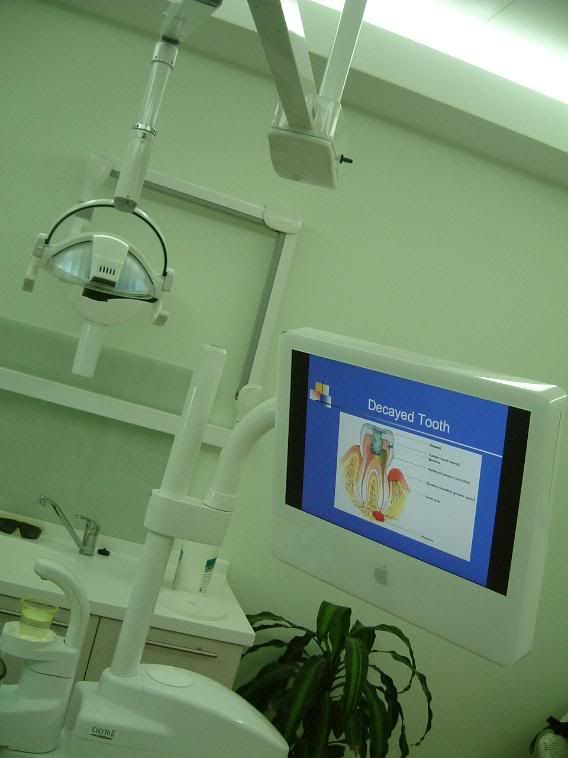 Dr Diong has done a very detailed examination. Without any use of jargons, he explained the problems of your tooth with the help of diagrams and presentation slides. (Well, the slides presentation looks cool on a Mac computer!).
(Photo 4)
The diagram illustrated the problem of a sensitive tooth. (Yes!! That's the problem I am currently facing) Dr Diong filled up the exposed area and I would need to use a desensitizing toothpaste to brush my teeth.
(Photo 5)

Overall, the dental experience with TOOFDOCTOR was good. The clinic used various forms of equipment to ensure that it delivers comprehensive treatment to the patient.
Price:
– A one-time consultation fee of $20/- for new patient.
– If you are going for half-yearly maintenance, the price of scaling and cleaning will range from $60 to $100.
Contact details:
7 Tanjong Pagar Plaza #01-106 Singapore 081007
Tel: 6221 1121 Fax: 6222 4681
Email: toofdoctor@mac.com
Website: http://www.toofdoctor.com.sg